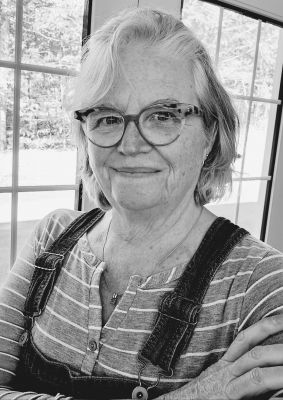 Artist Statement
"I love the same things you do about New England. I just reflect on them in a different light."
As a lifelong resident of New England I understand the visual and spiritual beauty of this place we call home. I feel connected to the varied landscapes from the ocean edge to inland forests and waterways. Our beautiful environments are so valuable to protect and appreciate to provide the same memorable experiences for our children and grandchildren. I'd love for them have the same sense of awe I have experienced as they treasure the landscape in their own way.
My art-making process results in a semi abstract approach to developing a painting. I take notes by sketching both on-site and in my studio, taking photos, and by simply looking in order to collect images and feelings about particular places or relationships. I then develop these by working in sketchbooks to cull the most important aspects and recombine them into designs that speak to me and hopefully to my followers and fans as well.
I intentionally work in a different/unexpected manner to develop a fresh way of presenting commonly seen views and situations–interpreting them through my personal filter of color, line, and design–to create something new that resonates with viewers. I hope to reflect a unique idea about the things that capture my attention.
I admire many historic and contemporary painters, craftsmen, and styles including Fairfield Porter, Andrew Wyeth, Pablo Picasso, Georgia O'Keeffe, Mary Cassatt, Winslow Homer, Tomie DiPaola, Eric Carle, Ludwig Bemelmans, Henry Moore sculptures, Inuit sculptures, Aboriginal art, and current artists Paul Resika, Eric Aho, Danny McCaw, Wolf Khan, Emily Mason, Nicholas Wilton and many more. Each has influenced my work in a way that can be difficult to define but I remember being intensely influenced by their work while trying to find my own voice.
---
Biography
Ann (Mason) Trainor Domingue was born in Fall River, Massachu­setts, grew up in Barrington, Rhode Island, and spent many summer vacations on Cape Cod, before settling in New Hampshire.
She is a graduate of Rhode Island College with a BA Studio degree in painting. She has pursued a career as an artist working in adver­tising agencies as an art director/llustrator; as a teacher at the Currier Museum's Art Center and NH Institute of Art in Manchester, NH; and as a painter.
Ann is a Copley Fellow at the Copley Society of Art in Boston. Ann was selected to complete a month-long artist residency at the historic Fine Arts Work Center in Provincetown, MA in September 2014 and has completed return residencies in 2016-2019.
Her work hangs in many private and public collections including the permanent collections of Coverys, Boston; the McIninch Gallery at Southern New Hampshire University SNHU and Keene State College; Tenn and Tenn law firm, Elliot Hospital, Catholic Medical Center and Manchester Place in Manchester, NH. Her award-winning work has been juried several times into the Currier Museum of Art/NH Art Association Annual Exhibitions, twice into the New Hampshire Biennial, several times in New England Watercolor Society regional and national exhibitions. Her work was awarded the Silver Medal in the 2019 New England Watercolor Society signature member exhibition. Her whimsical illustrations have been donated to the non-profit organization CASANH greeting card fundraising project for many years with her 'Old Man of the Mountain' design a perennial bestseller.
Ann is represented by Art3 Gallery in Manchester, NH; Kennedy Gallery and Framing, Portsmouth, NH; Sullivan Framing in Bedford, NH; Camden Falls Gallery in Camden, ME; Portland Art Gallery, Portland, ME; George Marshall Store Gallery in York, ME; on Cape Cod at Gallery Antonia, Chatham, MA; and Powers Gallery in Acton, MA.
Resume
Published / Awards / Show Acceptances / Residencies
Featured artist exhibition at Portland Art Gallery, Portland, Maine July 2021, exhibiting 30 new artworks in various sizes in a coastal relationships theme.
Winner of an Honorable Mention in the New England Watercolor Society signature member exhibition for 2021 for 'Golden Hour Moment'.
Selected for inclusion in the 2020/21 AcrylicWorks7 magazine of contemporary painters, Golden Peaks Media Properties, publisher.
Featured artist at Kennedy Gallery, Portsmouth, NH November 2020, new paintings, prints, cards, and calendar.
Featured artist at Portland Art Gallery, Portland, ME October 2020, new paintings in 'Coastal Ways' series.
Featured artist for 'Homecoming' show at Camden Falls Gallery, Camden, ME May 2020, new coastal relationships paintings.
Winner of Silver Medal for watercolor at 2019 New England Watercolor Society Signature Members Show for piece titled 'Working Dawn'.
Solo exhibition at Sullivan Framing, Bedford, NH, 'Different As Night and Day', September 2019.
Alcove exhibition at Portland Art Gallery, Portland ME September 2019, new works.
Solo exhibition at Kennedy Gallery, 'Undercurrents' new works April 2019.
2-person exhibition at Portland Art Gallery 'Recent Works', November 2018.
3-person show at Gallery at Wren 'Color of Love--3 artists, 3 visions', Bethlehem, NH September 2018.
Solo exhibition at George Marshall Store Gallery 'Shining Through', York, Maine July/August 2018.
Solo exhibition at Camden Falls Gallery 'Homecoming' Camden, Maine, June 2018.
Solo exhibition at Kennedy Gallery 'Coastal Currents', Portsmouth, NH, May 2018.
Upcoming 2017/2018 in Angler's Journal article to feature Ann's original artworks as well as profile of her journey as an artist.
Selected as an 'Artist to Watch' by Art Collector Maine' for 2017, included in May issue of Maine Home and Design.
Winner of 2017 Puzzle contest sponsored by NH Art Association and Prescott Art in the Park Festival. Artwork depicts a busy colorful waterfront inspired by New England with closely built houses and shacks with fishing families getting ready for the day.
Published in Zest Magazine of Portland Maine April 2017 for Easter themed article; illustrated custom ink and watercolor artwork of 'Arriving In Style', a chicken dressed in bonnet with her brood arriving at the parade by dory.
Copley Society of Art 'At Sea' marine painting exhibition, selected work titled 'After All' --an expressive large painting of a schooner with sails up moving slowly backlit by sun with American flag waving at the stern. May 2017.
ArtProv Gallery exhibition "Henry's Kids', group show of select works by recent and past students of Rhode Island College Professor Enrico Pinardi, January 2017, Providence, RI.
Design New England profile of work and creative process in Sept/Oct 2016 article written by Lori Ferguson, 'Painting Joy'.
New Hampshire Art Association, solo exhibition 'Along the Waterfront', May 2016.
Copley Society of Art group show of Copley fellows who have recently completed artist residencies awarded by the Copley Society, Boston, May 2016.
2015 profile in Art Collector Maine annual book, profile of artist members of The Portland Art Gallery.
Cape Cod Museum of Art exhibition 'Structures and Remnants', now until October 15, 2015, juried in piece titled 'Well Worn Morn', 12x12, acrylic on paper/panel.
Solo exhibition titled 'Home Revisited' at Gallery Antonia, Chatham, MA, opening reception Saturday, December 13, 2014.
Copley Society of Art 2014 recipient of Artist Residency at the Fine Arts Work Center in Provincetown, MA.
Artwork selected by 'Sea of Trees' movie set designer for use in movie directed by Gus Van Zandt, starring Matthew McConoughey 2014. 'At The Start' acrylic on panel, in private collection
AcrylicWorks1, 2014, artwork selected for inclusion in acrylic book published by North Light Books first edition 2014. "Lined Up in Blues/Working Docks Lineup, 24x36, acrylic on paper affixed to deep cradled panel.
Copley Society of Art Members Winter Show 2014 selected "Through the Clearing", acrylic on canvas. Juried by Hope Turner and Zola Solamente, of Arden Gallery.
Copley Society of Art Members Modernist Show 2013 selected "Autumn Reflected", acrylic on canvas. Juried by Judith Tolnick Champa, Editor-in-Chief of Art New England.
George Marshall Store Gallery in York Maine selected 10 pieces of my work to be part of the "Pleased to Meet You II" group show 2013.
13th Biennial North American Open Show 2012 sponsored by New England Watercolor Society, juried by Tom Lynch. Artwork selected watercolor and ink titled, "Old School Shadows". Winner of Jerry's Artarama Award.
NH Art Association 62nd Currier Exhibition at Currier Museum of Art, January 2011. Juried by Jen Mergel, Beal Family Senior Curator of Contemporary Art at the Museum of Fine Arts, Boston and Dina Deitsch, Associate Curator of Contemporary Art at deCordova Sculpture Park and Museum, Lincoln, MA. One of 49 pieces selected from over 225 entries.
Juried into 2009 New England Watercolor Society Regional Exhibition, "Reflections In Line" watercolor/ink.
NH Art Association 60th Currier Exhibition, hosted by NH Institute of Art, Manchester, NH, January 2008. Juried by Cynthia Reeves, Spheris Gallery-NH and NYC. One of 50 pieces selected from 150 entrants for piece titled, "Lobster Lessons."
Juried into 2007 Vision and Voice Exhibition: Art As Social and Political Commentary, sponsored by the NHAA, one of 59 artists selected from 160 applicants.
Accepted to NHAA/Currier Museum of Art Exhibtion 2007, juror Karen Burgess Smith, director Lamont Gallery, Philips Exeter Academy. Winner of Dr. Paul and Duddy Costello Memorial Award, one of ten awards. Selected from 70 works in the exhibition.
NH Art Association Parfitt Memorial Show, September 2006, third place. Juror DeWitt Hardy. Accepted to NHAA/Currier Museum of Art Exhibtion 2006, juror Mary Harding, curator of George Marshall Gallery, York, Maine.
Accepted into NH Institute of Art Juried Biennial Show 2005, Manchester, NH, juror Daryl Furthkamp, director of Kimball Jenkins Art Center, Concord, NH.
NHAA/Currier Museum of Art Exhibition 2005, Georgeopoulas Award for Drawing. National Trust for Historic Preservation, poster art "Preserving the Spirit of Place," 2002, third place in national competition.
Manchester Artists Association, Art in the Park, 2001, Best of Show and second in oil/acrylic.
---
Press Articles
Off the Wall profile book published by Portland Art Gallery 2019. Available at the gallery.
Anglers Journal article titled 'At the Fishhouses' published Fall 2019; several artworks support poetry by Pulitzer prize winning author/ poet Elizabeth Bishop.
Design New England profile published Sept/Oct 2016 issue, pages 82-85, 'Painting Joy'.
http://digital.designnewengland.com/designnewengland/september_october_2016?pg=85#pg85
HippoPress profile July 2015, ATD on 'Sunstrokes' exhibition and studio visit.
https://issuu.com/hippopress/docs/hip_150702_000book_with_hyperlinks